SEMINAR 2008 SCHEDULE: There is no ongoing seminat at Avalon this year. Below is the information of the current class in session:
AGY202: PRACTICUM 1
Instructor: MICHELLE GOULD, M.A., from Gainesville, FL
CLASS SCHEDULE:
Sept 2, 4, two weeks off, 23, 25, 30
Oct 2, 7, 9, 14, 16, 21, 23, 28, 30
Nov 4, 6, 11, 13, 18, 20
thanksgiving holiday
December 2, 4
CLICK HERE FOR DETAILS

LOCATION:
Avalon School of Astrology
6212 NW 43rd Street, Suite A
Gainesville, FL 32653

* ACCOMMODATION: See below for details.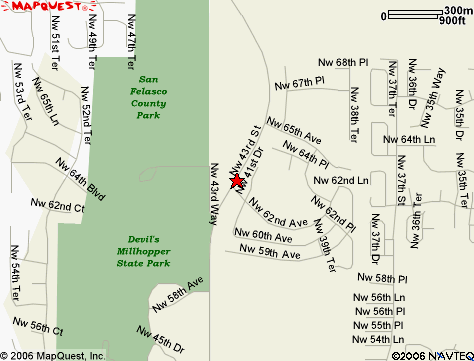 Courtesy of Mapquest.com
FOR MORE INFORMATION ABOUT THE ABOVE CLASSES, send us an e-mail at avalon@avalonastrology.com or Call 352-375-1250. Our office hours are 9am to 5pm Eastern time. If you plan to visit Avalon and is staying in Gainesvile, below is the infomation of the hotel closes to the school's location.
ACCOMMODATION:
Best Western Gateway Grand Hotel
4200 NW 97th Boulevard
Gainesville, Florida 32606 ·
Phone #: 352-331-3336


There are several hotels in Gainesville, FL. The closest hotel to the school is the Best Western Gateway Grand. If you mention "Cosmic Patterns Software" you will get a discounted rate of $84 (double room), $94 (mini suite). Rates include free continental breakfast, free internet connection, and free use of their business center. Airport pickup can also be arranged from the hotel. Reservation number: 1-877-464-2378. Ask for "Avalon School of Astrology" rate.

Copyright © 2006 The Avalon School of Astrology. All Rights Researved
ADDRESS: 6212 NW 43rd Street, Suite B, Gainesville, FL 32653 Phone #: 352-375-1250